Ancient Egypt Poster Board Tutorial
In this step by step tutorial we will use our printable Ancient Egypt Project Kit to quickly and easily decorate a poster board for a school report on the history of ancient Egypt. The kit can be to purchased and downloaded from our online store by clicking here.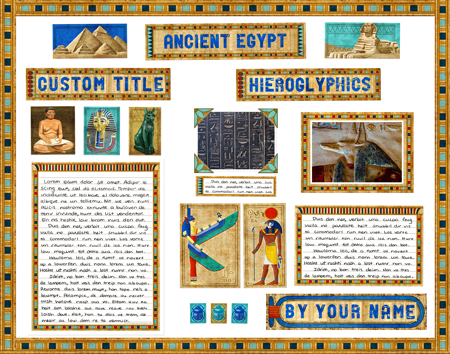 Pieces Included in our Ancient Egypt Kit:

Title
Subtitle
Alphabet & Hieroglyphics
Writing Template (lined, unlined)
Half Page Writing Template
Caption Card
Borders
Photo Frame
Photo Corners
Icons

---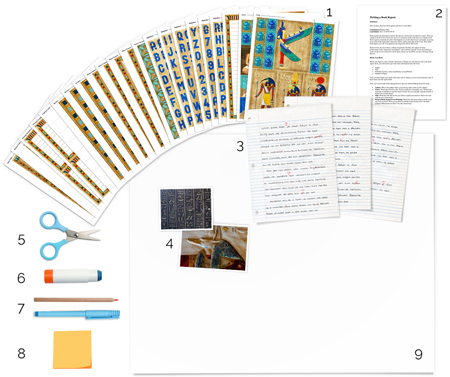 Supplies to Gather:
Printed Kit
Assignment (from your school)
Rough Draft
Photos, Charts, or Other Images
Poster Board (any size)
Scissors
Glue Stick
Pencil or Pen
Sticky Notes (or scratch paper)
---
Steps
1) Print
Download your kit files & print on regular printer paper. Print at home, work, or a copy shop.
Estimate the number of writing templates your project requires. If you plan to hand write your report, print the lined templates. If you plan to type, print the blank unlined templates (in a later step we'll run them through the printer a second time to add the words).
---
2) Cut
Cut out just 1-3 of type of each type of piece from the kit. You probably won't need every piece, so it saves time to cut just a few to work with.
As you go, cut more pieces only as needed.
---
3) Borders
Align the borders with edge of your board, and glue.
Borders are the only pieces you should glue to your board before the last step, since you know for sure where they go. (If you want to put them somewhere else besides the edge of your board, wait to glue just in case)
Tip - It is easiest to just overlap the borders at the corners of your board, and wrap the extra around the back.
---
4) Pile
Divide up your rough draft and image pieces into piles by the sections you want to have on your board. Label with each pile with a sticky note. It can help to cut up your rough draft.
Don't worry about the kit pieces yet. Just work with your report content for this step.
Double check your assignment, do you have everything that was required?
---
5) Pair
Sticky notes - pair each with a title or subtitle. Don't forget your main project title and your name.
Rough draft - pair with writing templates, half page writing templates or caption cards, depending on the amount of space needed for writing.
Images - pair rectangular images with photo frames (its easiest to just put your image it on top of the "frame", don't bother cutting out the middle). If an image is an odd shape, don't worry. We will decorate these later with photo corners.
---
6) Plan
Start laying out your pieces on your board to get an idea of how you want to arrange your pieces.
Don't worry if there is a lot of empty space - we have tricks to fill that up later.
Tip - It looks best to arrange the largest pieces near the bottom of the board.
---
7) Title
Make a title for each of your sticky notes.
Custom Titles - Cut letters from the alphabet (its easiest to cut out only the ones you need so the rest stay organized). Arrange the letters on the title. Then, pick each letter up, one by one, and glue it to the title.
The kit alphabet also includes some common words to help you make titles faster.
This kit also includes a hieroglyphic alphabet.
---
8) Hand Write

If you are handwriting your report, just copy your rough draft onto the writing templates, half pages and caption cards.
Tip - To type skip to next step. (Half pages and captions can't be typed)
---
9) or Type
Measure the blank writing templates (that you printed in step 1) from the border to edge of the paper. Set the margins of your word processor inside the borders. Load the paper in the printer and print.
Tip - print a test page on regular paper and stack the test on top of the blank writing paper, then hold up both sheets to a window. You will be able to see if the words are inside the borders.
Tip - Mind the way your printer feeds, all printers are different and some flip the paper over or output prints upside down. To test how your printer feeds paper, mark an X at the top edge of a piece of paper and print a test page from your report. Note where the X ends up on your sheet.
---
10) Photo Corners
Any oddly sized or shaped images that don't fit well on the photo frames can be embellished with photo corners instead.
Just place one photo corner on top of each of the corners of the image. This is an easy way to make images look nice and finished.
---
11) Icons
Use the icons to fill in any spaces that look too empty.
Icons add interest and color, an easy trick to make your report look full and complete.
---
12) Ok, now you can GLUE!
Make sure you have all the pieces arranged the way you like them. If you can, take a picture before you start to glue, just in case things move.
Pick up each piece one at a time (so you don't forget where it goes) and use a glue stick to glue it to your board.
Admire your work! If you post your project on social media, tag us and we'll feature you on our feed ;)